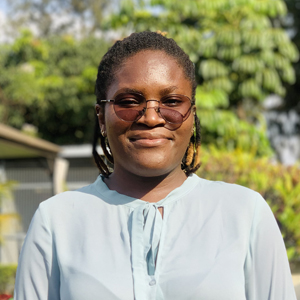 Clarisse Prisca Nteko Bwiza
Bwiza is a Mental Health and Wellness Generalist Mastercard Foundation Scholar Fellow at Solid minds. She holds a Bachelor's degree in Psychology from the United States International University-Africa.
Born and raised in North-Kivu, the Eastern province of the Democratic Republic of the Congo, she has experienced the instability and insecurities that have been ongoing in her country and region for over two decades. She is passionate about education, psychology, and the arts. Bwiza is committed to using her passions as tools to help her people to address and deal with the different traumas born from the unfortunate series of events they have experienced. During her academic journey, she held different positions that allowed her to gain experience working in a multicultural environments where she has honed her problem-solving, mediation, and event organisation skills. Bwiza also has more than 6 years of experience providing peer support (e.g. psychological and emotional support to her fellow classmates and community). In her career, Bwiza also has she gained skills in report writing, project proposal writing, project management, translation (French/English), teaching, workshop coordination/facilitation, and curriculum design.
At Solid Minds she assists in various ways with a focus on the stigma reduction activities, but also supports the, capacity building work as well. In addition, she collects and analyses data for monitoring and evaluation purposes.
She works in English, French and Kiswahili.