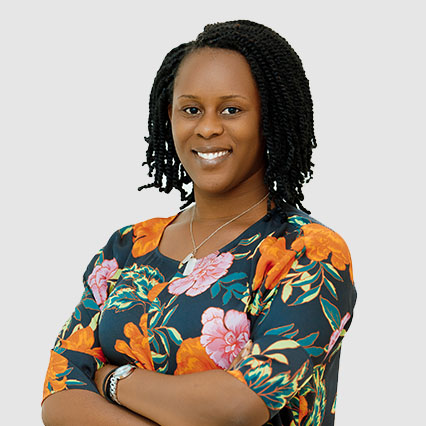 Sandrine is a Program Design, Management, and Research Graduate Mastercard Foundation Scholar Fellow at Solid Minds. She holds a master's degree in Global Health Policy from the University of Edinburgh in Scotland and an undergraduate degree in both Public Health and International Studies from Muhlenberg College in Pennsylvania. 
Sandrine was certified as a qualitative researcher by the Market Research Society in 2014, and she has 5 years of experience in research predominantly in the health sector, but also in the fields of environment, agriculture, education, and adolescent issues. Sandrine took part in different leadership journeys, which enhanced her leadership skills and community involvement. She is passionate about global health and research as well as very interested in monitoring and evaluation.
At Solid Minds, she supports all the activities but focuses primarily on Monitoring & Evaluation, Program Design, and Research. Sandrine has assisted in designing surveys, writing literature reviews, and designing workshops for Mastercard Foundation Scholars and Alumni. 
Sandrine works in English, French, and Kinyarwanda.